You want to start your next adventure but don't know how to begin? Learn about different campgrounds, packing essentials, beach cooking and setting up your campsite in this Beach camping guide.  
We covered the major aspects of beach camping 101:
Deciding on a primitive, rv or a developed campground
Packing for your trip with handy checklists
Choosing and setting up your campsite
Deciding on your beach activities
General considerations when buying a tent
12 Steps to keep your tent cool during the day and warm at night
Planning on how you will cook and where to eat on your trip
Recommended videos that cover setting up your tent, building a campfire, cooking outdoors and tying basic knots
Related Topics
Planning Your Camping Trip On The Beach
Fun, eventful vacations begin with preparation.  In your first step, the planning process, you will need to answer a series of questions.  As a result, the answers will determine the core of your plan.
Where do you want to go?
When you decide on a beach camping trip, a picture pops into your mind.  What do you see?  Are you camping on the sand in a tent or in a close by developed campground?  Let's review the options in the Beach Camping Guide.
Staying on a primitive campground
First of all, most primitive sites do not have access to drinking water, concession stores, trash cans, bathhouses or trailer dumping stations. You will need to bring your own water source in most cases.
So, practice good camping etiquette, avoid human interference, and leave no trace. Take and dispose of all trash bags and dig a hole in the sand to bury compostable waste.
Additionally, you need to provide your own electricity if needed via an inverter generator.  Most parks do not allow for these to run overnight if you are camped close to other campers due to the noise. So, plan accordingly.
Furthermore, you need to provide shelter, picnic tables and construct your own fire circle if campfires are allowed.  Most parks require you to bring your own firewood.
Also, some parks limit RV camping in primitive areas, so you will need to research if this is your interest.  And some parks allow for tent camping behind the sand dunes, but most do not.  The reason behind these would provide protection from the heavy winds and high tide.
Finally, check the park site for rules on sand dunes.
Most campgrounds are open year-round. Usually, no reservations are accepted, as camping is first-come, first-served.
Campers, including beach campers, must have a camping permit, which is available, a lot of time, from the kiosks at the entrances of each campground.
Beach Camping Guide: You will need to bring literally everything to create your campsite.  The good news is we will walk you through it!
Texas Primitive Beach Campgrounds
Choosing a developed campground
By definition, a developed or dedicated campsite is a marked pad to pitch a tent or park a camper.  So, you need to reserve it for a fee.  
All parks require at least a 48-hour advanced reservation.  So, it is recommended you make summer reservations at the campgrounds 3 to 6 months early since this is the busiest season.
Developed campgrounds come with paved road access, and a gravel or concrete pad, picnic table and seats, utility hookups such as electricity, water, and sewer for travel trailers, and raised platforms to pitch a tent.
Park amenities include a bathhouse, concession store, sale of wood for campfires or cooking, a pedestal grill and garbage cans and bins.  Make sure and check for included amenities you require when you make reservations.
In addition, you will need to provide cooking gear depending on whether a ground fire circle or pedestal grill is provided.
Beach Camping Guide: This is "camping lite" with all the conveniences of home. You are within walking distance from the beach while camping in a calmer environment.  Truly the best of both worlds!
Texas Developed Beach Campgrounds
Camping in an RV campground
Many developed or dedicated campgrounds have specific campsites for recreational vehicles (RVs). Therefore, these pads are oversized and usually regulated by the RV weight.
Most of the state and national park campgrounds were constructed before the 1940s.  Thus, these campgrounds cannot accommodate the large RVs and trailers common today.  So, to protect your vehicle and the park resources, RV and trailer size restrictions will be strictly enforced.
Beach Camping Guide: This is like bringing your house and parking it by the beach. 
Source: RV Vagabond Jerry
Texas RV Beach Campgrounds
Packing For Your Trip
What camping gear will you need to bring?
For most people, the basics are the same: shelter, cooking and sleeping gear, keeping a comfortable temperature and packing for first aid and clothes.  Since tent camping requires the camper to assemble all of these items, I will be addressing tent camping in both primitive and developed campground.  So, let's review your choices in the Beach Camping Guide.
Choosing The Kind Of Tent That Works Best On The Beach
The primary factors for choosing a beach tent focus around the exposure your beach camp will have to the elements.
First off, if you are camping in a primitive site, then weatherproofing and durability are the major factors.  
On the other hand, if you are staying in a developed campground, then comfort and ease of setup may be a higher priority.
Beach Camping Guide Tip: General Considerations When Buying A Tent
Determine your space needs.  To do so, make sure there are 30 square feet (2.8 square meters) of space per person.  Try not to go too big
Consider tent weight.  Prioritize a lighter weight and roomier packability for backpacking
Consider tent height and wall shape.  Importantly, the more vertical the wall, the more headroom you can expect.  Therefore, choose a cabin or dome shape if you want headroom or standing room
Look for a tent with an AC and electrical port
Buy a footprint to go with your tent.  This useful because they are used as a ground cloth underneath your tent to prevent wear and tear caused by gravel and rocks
Choose aluminum tent poles.  This is because fiberglass poles tend to be brittle and easily break
Maximize storage with a tent with vestibules.  They are like mudrooms at the front of a tent or along its sides.  They provide extra space to stash your gear, flip flops or sandy shoes out of the way
Thinking about putting using a tent AC this summer?  See this article:  Can tent air conditioners work on the beach?
When camping in a primitive beach site
Prioritize weather resistance.  So, make sure the tent provides adequate weather protection like a four-season tent.  Also, ensure ventilation with mesh paneling.
Look for durability features.  For example, get a tent with durable zippers and made of tightly woven, rip-resistant material.
Stability features are important.  So, look for tents with secondary guy wires.  Additionally, purchase sand stakes.
When camping in a dedicated campsite
Since the wind is not nearly a forceful as in the primitive sites, prioritize versatility.  Hence, go for a three-season tent for lower weight and cost.  You also want to ensure ventilation with mesh paneling.
Look for comfort features.  One way is to choose a tent that's easy to set up.
Related Beach Resources
Adding Shade To Your Campsite
Here are some ideas for adding shade to your beach campsite:
Build a simple shelter with a reflective tarp
Bring a pop up reflective sunshade or shelter
Use a pop up folding canopy for shading a kitchen or lounging area.
Add an attachable sun wall to your tent to provide even more sun protection
Utilize a pet cooling cot with a shade canopy
Set up an adjustable umbrella with universal clamp
Use a clamp-on picnic table canopy
Keeping Your Tent Cool During The Day And Warm At Night
Keeping warm at night can be a challenge at times.  And, overheating during the day can make the beach exhausting.  There are common reasons for having a bad camping trip.
Here are 12 tips for keeping warm at night:
Take a smaller tent to contain body heat
Use hand and toe warmers
Bring in some disposable heat packs
Pack two stocking caps and keep them dry
Use a hot water bottle in your sleeping bag and keep close to your inner thighs and neck
Bring Take extra blankets
Bring sleeping bag liners
Use an insulated, closed-cell foam sleeping pad
Insulate your tent with a tent carpet or rugs
Take portable heaters (use with caution and proper safeguards)
Eat olive oil, chocolate, peanut butter.  Eat anything that is high in fat
Munch on a High-Calorie Midnight Snack
Here are 12 tips for keeping cool during the day:
Take a large tent to allow for airflow and loss of body heat
Set up your tent with the breeze flowing through tent doors and ventilation
Put up a reflective tarp over your tent with a sizable gap to allow breeze between to keep tent cooler
Use a reflective tarp to cover eating and lounging areas in the campsite
Take a beach umbrella
Choose a tent with an AC port and use an air conditioner
Use a portable air conditioner unit
Bring electric fans
Take cold packs
Bring several ice coolers with plenty of ice.  Ideally, 40 pounds of ice per 40-quart ice chest.
Bring lots of water.  Ideally, 1 gallon per person, per day
Always wear a hat in the sun
Deciding On Your Beach Activities
Who Is Coming On The Trip?
This is the fun part, an essential of beach camping 101,  deciding what things you want to do while at the beach.  So, do you want to spend more time in the water, on the water, on the beach, or at the beach campsite?
Couples can have an intimate, relaxing weekend trip in a pup tent. A little light cooking and a few simple activities make for a perfect trip. 
Solo camping is getting popular for a personal getaway. A great binge time for your personal interests like fishing, hiking or barefoot running.
Tent camping is perfect for families. Cooking on a campfire surrounded by beach chairs, cooking hot dogs and a pot of beans in the day and stew and s' mores in the evening. Playing Frisbee or riding an ATV around camp.
What Activities Do You Want To Do When You Get There?
Go dirt biking or bicycle riding.  Bring your dirt bike and try out your new paddle tires in the loose sand or coast along on a cruiser bike.
Some people take dedicated boating or fishing trips. Take out a boat or Jet Ski (or two) during the day and enjoy dinner at the camp at night. While others take fishing excursions in early morning and dusk and chill during the day around camp.
Some beaches are on a state or national park. They include RV and camper stations within walking distance of the beach.
A great way to enjoy the beach without sleeping with the sand in your sleeping bag. If you have an RV or pull a camper, I don't have to tell you how great it is.
The comforts of indoor living with the experience of a week or so at the beach. Nothing is better than cooking on a stove in air conditioning or running the heater in the cooler months.
Need some ideas about what fun things you can do on the beach?  Read this post to get your thoughts flowing 7 Essential Beach Camping Tips.
What fun gear will you need to bring?
Don't forget to plan for what fun gear you will need.  Also, you will need to think about how to carry it.  Moreover, will you need roof racks or a trailer?
Watercraft
Check to make sure there is a boat ramp and designated area to ride.  Particularly if you are going to bring your boat, wave runner, or other watercraft. Most noteworthy, some beaches do not have one.
You will need to secure allowed parking for the trailer when you make reservations.
An alternative could be to locate an area where they rent watercraft, like a Jet Ski, Sea-Doo or Wave Runner.
Need tips on renting watercraft?  See this post about Tips For Renting A Jet Ski.
Water Sports
Most beaches will allow surfing and windsurfing.  But, kite sports, kayaking, and paddle boarding are usually reserved for only specified locations which will need to be researched as you plan.
A covered utility trailer with mounting brackets is the best transportation method for the surfboards, kayaks, paddle boards, and sails.  Therefore, you will need to secure allowed parking for the trailer when you make reservations.
ATVs And Dirt Bikes
All-terrain vehicles (ATV) and dirt bikes are very popular in most of the sandy dunes of Montana and Idaho.  But, motorsports vehicles like ATV and dirt bikes are usually prohibited on most beaches.  And riding in the dunes on most beaches are not allowed.  This is because the dunes act as a barrier to protect the inland areas during storms and hurricanes.
If this is one of your major interests, then you will need to research as you plan before you go.
Curious about dirt bike riding in the dunes?  Read this post on Selecting the best dirt bike tire and setting the correct air pressure for sand.
Specially outfitted utility trailers with mounting brackets are the best transportation method.  Also, you will need to secure allowed parking for the trailer when you make reservations if they are allowed.
Surf and Pier Fishing
All states require fishing licenses.  Saltwater fishing requires additional fees.  Here are the Texas license packages.
Most fishing gear like rods and reels, bait buckets, and tackle boxes are easy to pack and transport.  Also, you want to consider a utility cart with balloon tires for hauling your gear if you are pier fishing.
Hiking and Cruiser Biking
All beaches allow for beach hiking and backpacking.  Some will have nature trails and hiking trails off the beach.  Additionally, you can attend special activities like guided tours, group beach walks or evening campfire programs in some cam​​pgrounds.
You can go biking on many of the nation's beaches.  Most use cruiser bike because of their ease of use, pedal braking, and single gear design.  You can rent on some beaches as well.  You will need to use a bike carrier or utility trailer if you bring your own.
Curious about what a cruiser bike is?  Read this post on The basics of a cruiser bike.
How Will You Keep Your Things Safe Overnight And As You Come And Go?
Try to keep your valuable things out of sight by either storing in your car trunk, under the seat or in a truck tonneau cover.
Wondering how to keep your things safe at the beach?  Read this post about  How Can You Keep Valuables Safe At The Beach.
Planning For Eating On The Beach
Cooking while on your trip
There are several options for cooking food:
Campfire
Wood burning camp stove
Propane camping stove
Electric grill
Campfires are not usually a good choice for a cooking heat source.  Due to that fact that most beaches restrict open fires to the primitive campsites.  
Also, you will need to bring in your own firewood or buy it locally. Importantly, you will need to supply a good firestarter.  
Lastly, it requires some skill to cook on uneven heat.  You will need a backup plan if it rains. A rain fly helps.
Electric grills are convenient, but usually, a lightweight cooking surface and they are usually too small for large groups.  This works for indoors or sheltered cooking.
Propane camping stoves are great for indoor cooking.  Also, works well when sheltered from high winds.  Due to the heat from these stoves is easily regulated and comes with multiple burners.
Wood burning camp stoves work well because it is enclosed and not affected by high winds or rain.  The heat can be applied more evenly and you can cook from the heat and not the fire.  
Therefore, this is my recommended choice if you can bring a camping stove.
Where will you eat?
Nothing spoils a campout like not having a comfortable place to sit and eat.  Some people can tolerate sitting on the ground, but this is not for everyone.
If you are in a developed campsite, you will have a picnic table and bench seats.  But if you are camping in a primitive site, you will need to supply your own solution.
Here are some easy ideas:
Portable picnic table with benches
Heavy-duty folding picnic table and bench set
Card table and folding chairs
Canvas folding table
Lawn or beach chairs and a 48-quart ice chest
Inside your vehicle or tent
I recommend a ground tarp, coasters or firm surface to keep your table and chairs legs from sinking in the sand.
Choosing Your Campsite
Choosing Your Primitive Campsite Location
Beach Camping Guide Tips: Choosing A Primitive Beach Location
Choose an isolated location if you want little interaction with other people
Beach camp as close to the sand dunes as allowed within park regulations
Avoid the effects of the high tide.  Firstly, camp at least 50 feet from the high tide mark.  The debris line is the tell-tale sign that indicates where the high tide ends.
Check weather reports that indicate an expanded high tide for the evening
Trees are rarely found for cover in a primitive beach location.  So, consider these sites a priority on the beach
Setting Up The Campsite
A primitive beach camp is unstructured and you will decide how it is laid out. There will be an area for sleeping, eating, cooking, parking vehicles, dirt bikes, ATVs, bicycles, surfboards, camper trailer, jet ski, and trailer, etc.  Thus, you will arrange these items to keep you comfortable and your equipment safe and dry.
Things To Consider When Choosing A Developed Beach Location
Pick the high point of your camping area for the tent location
Determine the main wind direction.  Use vehicles to block heavy winds from your tent
Layout your beach camp in a circle with the tent the furthest from the kitchen or cooking area.  
Plan your eating area close to the cooking area.  Plan for where your fire circle or wood-burning stove will be located away from the tent area.  Set up a tarp to keep any firewood dry.
Park your vehicles and equipment on the far side of your camp towards the dunes and away from public access.
Picking The Right Developed Campsite
A developed camp is more structured by nature.  There will be an area for sleeping, eating, cooking, parking vehicles, dirt bikes, ATVs, bicycles, surfboards, camper trailer, jet ski, and trailer, etc.  Thus, you will arrange these items to keep you comfortable and your equipment safe and dry.
Things To Consider When Choosing A Developed Beach Location
Choose a campsite close to the restrooms and bathhouse, but not next to it.  Consequently, the adjacent sites are noisy throughout the day and evening
Avoid sites that are adjacent to trash bins and dumpsters.  Then, this will save your self from the high traffic and smell
Find a site with any shade trees near the camping pad.  This will provide some privacy, damper noise, and provide some shade
Check the condition of the picnic table and bench seats.  Because some will be in better condition than others
Finding The Restroom
In a primitive campground, locate any public access restrooms and bathhouses. Then decide how the restroom activities will be handled. For example, you can set up camp close to these public facilities.
On the other hand, if this is not an option or you want to camp away from this area, you can set up a privacy tent that includes a camping toilet.  Most importantly, have a plan for restroom needs during the night.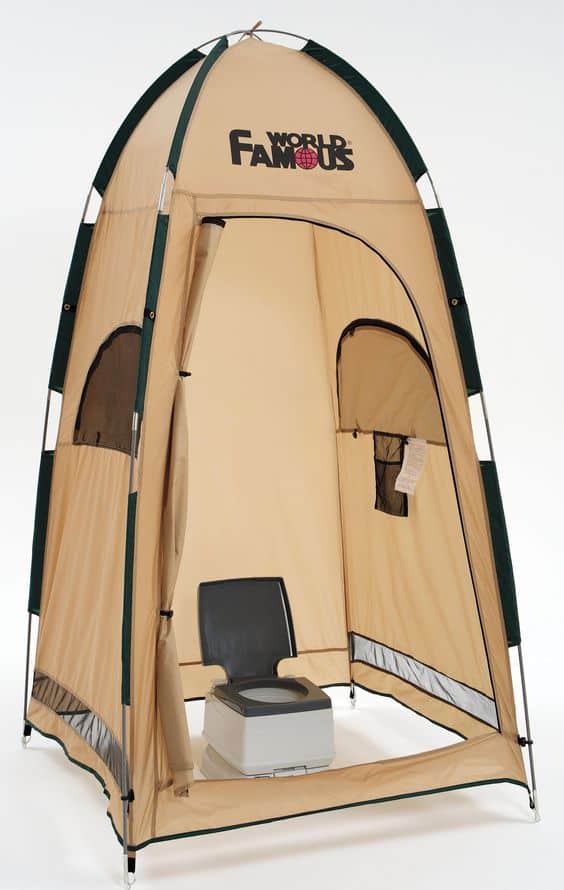 For developed campgrounds, pick a campsite close to the largest restroom or a bathhouse.  However, don't pick an adjacent site for the same reasons listed earlier.  You will regret being so close to the heavy traffic and people cutting across your campsite to reach the restroom.
Video Tips For The Beach Camping Guide
Here are some resources I found about the specific skills you may need.
Setting Up Your Tent
There are many types of tents and each has its own setup procedure.  I have included several videos that demonstrate various sizes and types.
How To Build A Campfire
Cooking Outdoors
Tying Basic Camping Knots
Summarizing The Beach Camping Guide
We covered the major aspects of beach camping 101:
Planning where you want to camp
Packing for your trip with handy checklists
Deciding on your beach activities
Planning on how you will cook and where to eat on your trip
Choosing and setting up your campsite
Recommended videos that cover setting up your tent, building a campfire, cooking outdoors and tying basic knots