Anchor poles should be mandatory when fishing in skinny water.
When kayak fishing in the marshes, I was reeling in a big redfish. And the currents took my Hobie Pro Angler and shot me through rows and rows of marshy brush and spilled me into a large retention pond a considerable distance from my starting location.
I bought my first stake out pole the next day. I'll never enter the marshes again without one. It took me two hours of vigorous pedaling to get out before dark (I should have had LED lights on my kayak as well).
Sight fishing can be difficult if your kayak drifts. Even slowly. Later in the day, when the high tide comes in and the currents are more substantial, you need a way to be stable and stationary yet nimble enough to move to chase fish. Grapnel anchors and drift socks work well in deeper water but are less effective in the skinny water I like to fish.
The stake out pole is the skinny water anchor of choice. How do you use one? What are the different options, and how do you fasten it to your boat? 
So I compiled a helpful how-to guide that:
Defines an anchor pole
Provides the best purposes and how to use while kayak fishing
Standard sizes available, typical venders, and a few links to ones I found useful
Three techniques for mounting an anchor pole
The three best videos I found full of great tips, anchor trolley installation, and using the anchor trolley with your anchor pole.
Related Topics
What Is A Stake Out Pole?
The first thing to know is that stake out poles are large, firm stakes or pins used to anchor a kayak, canoe, or skiff in shallow water. They are more effective in shallow, calm, and slow-moving water but can be very effective in fast currents if necessary. For deeper water, drift bags and boat anchors work better.
Kayak stake out poles are also known as kayak anchor poles, kayak anchor pins, stick-it anchor, and kayak push poles. So, they serve several purposes.
As an anchor pole, their primary purpose is to be driven into shallow mud, hard bottoms, or even through an oyster shell or gravel bottom to anchor or "stake out" your kayak. They can then be secured to your kayak using an anchor pole mount.
You can also use them as a kayak push pole. You can then slowly move through as shallow as 2-3 inches of water when fishing in the marsh.
They are a relatively inexpensive solution designed to anchor up to a 16′ kayak, canoe, or small boat.
Warning: do not use a stake out pole in high winds (more than 20 mph) or moderate to fast current (more than 15 mph).  These conditions will tend to push your boat around and cause your pile to pull up from the bottom. For these conditions, you will want to use an anchor or a drift sock.
Best Uses For Stake out Poles
Stake out poles may be one of the most valuable accessories you carry. Here are some of the best uses:
To anchor a kayak or boat in shallow water
As a push pole to quietly navigate skinny waters
As a boat hook using the T-handle to pull close to docks or other boats
Kayak anchor poles provide the best experience while kayak fishing. Learn all you need to know about fishing kayaks here.
How To Effectively Use A Kayak Stick It Pole In Strong Tides
As I said earlier, for winds greater than 20 mph, it's not safe to be in the water. So, always check the barometric pressure, wind forecast, and tidal forecast, and weather forecasts. My favorite app for the iPhone is FishAngler.
When the current and tides are still strong, it's not uncommon for the fish to be more active and biting at a safe level.
The safest method to stake out my kayak is to use an anchor trolley with the pole upstream. This equipment will allow for your boat to waver slightly in the current but still under control. It is convenient to have a trolley on both sides of the kayak.
Stake the pole through the trolley ring and deep into the mud. Adjust the position of the trolley ring until it lines up with the current and the stick.
I found this tactic effective for up to a current of 10 mph or so. If you are having trouble with the pole popping out of the mud, look for another spot and retry.
If this continues to occur, it is time to head back. Safety comes first, even when chasing bull reds.
Standard Vendor Sizes
Note: 3/4″ diameter poles are usually suitable for 22-foot kayaks, boats, and skiffs. 5/8″ diameter poles are designed for vessels less than 17-foot. 7/8″ and 1″ diameter poles are suitable for typical vessels up to 27-foot.
Anchor Pole Features And Options
Most stake out poles include:
Two pole types:

Hollow floating poles
Solid, heavy-duty non-floating poles

T-bar or push grip handle for pushing down the pole in mud or push poling your kayak
Some include a lanyard with a braided dock line
More have a threaded accessory insert for cameras, flags, and lights
Several vendors have clever features designed after years on the market.
The YakAttack ParkNPole has a multipurpose handle to push down the pole, doubles as a foot for "pole pushing" your kayak.
Yak Gear has made the lightweight Floating Stake Out Stick made of rigid nylon. No added anchor float leash required!
The people at Salt Strong have a great video that gives several good tips on using your anchor pin that I found useful.
How You Attach An Anchor
There are three methods I found to the most convenient and reliable.
Method 1: Anchor Trolley
You will find the most flexible and safest approach is to use an anchor trolley. You can control at what point the anchor pole to the kayak.
First, you insert the pole through the ring of the anchor trolley and secure it into the water bottom. Second, you slide the ring to the front bow or the rear stern, depending on which direction you want the kayak to face to provide the most stability. Lastly, you lock off the anchor trolley to a cleat.
The people at Salt Strong have a great video that shares tips on using an anchor trolley and a stake out pole
The people at Salt Strong have a great video that shares tips on using an anchor trolley and a stake out pole
Method 2: Anchor Pole Mounting Bracket
The simple and effective bracket that bolts down on the gunwale or fastens to an accessory track of the kayak. Drive the kayak anchor pole through the bracket guarantees a secure and fixed position for your kayak. Although, it does not have position flexibility like the anchor trolley.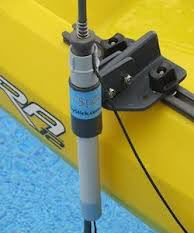 Method 3: Power-Pole Micro Anchor System
There are several powered micro anchor systems. With the click of a remote button, you can raise and lower an anchor pin located in the stern of the kayak.
Although it can be thrilling to operate, there are several drawbacks to this option. First, the micro anchor will require a costly lithium battery to stay charged between fishing trips. Additionally, since you usually keep them in the stern, the kayak will always be pointing downstream.
The entire setup is quite an investment that most people think is worth it.
The people at Austin Canoe and Kayak have a great video sharing tips on using a Power-Pole Micro Anchor.
The people at Austin Canoe and Kayak have a great video that shares tips on using a Power-Pole Micro Anchor.
Note of caution: do not use a stake out pole, mud stick (or anything else for that matter) in your scuppers. Scupper holes are the weakest part of any kayak and can cause damage to the scupper and cause it to take water into the hull. The potential damage could sink your kayak and void the manufacturer's warranty.
Keeping Pole From Scraping The Kayak
Be aware that when you pin the pole too close to the hull, it can tend to scrap the side when the wind or water current is fast. This situation can also happen when the wind or kayak changes directions quickly and the pole and kayak rub.
This scrape is only superficial in most cases but will look bad if you resell your kayak.
It would be best also to consider where to store your anchor pole when you have kayak pedals in the cockpit. Read here about using a fishing pedal kayak.
Here are some simple solutions depending on which kayak attaching method you are using.
For method 1: Anchor Trolley System, tether to the trolley ring with a 6′ leash. This step will avoid any friction with the kayak.
For method 2: Stake Out Pole Mounting Bracket – you should not have any issues since you secure it away from the hull.
For method 3: Power-Pole Micro Anchor System – you should not have any problems since you install it away from the stern
How To Mount An Anchor Pole To A Kayak
There are a couple of options for a stake out pole kayak mount:
YakAttack Deluxe ParkNPole Clip Kit with Anti-Pivot Mounting Base and Security Straps are Rubber clips.
YakAttack RotoGrip Paddle Holder
RAILBLAZA G-hold 35MM that installs in any RAILBLAZA StarPort. 
Install any 1″ pipe holder on the gunwale
The above options vary from bolt-on to accessory track gadgets. You will need to make sure the diameter of the kayak stake out pole you use matches the grip size of the holder above. Consider the installation location, how the stick will be attached and removed while on the water.
Summary
The best parking tool of choice for skinny water and marshes and its moderate price is the kayak stake out pole.
The best use for stake out poles is a shallow water kayak or boat anchor, a push pole to navigate skinny waters quietly, and a boat hook using the T-handle to pull close to docks or other boats.
Three methods for fastening an anchor pole to a kayak are an anchor trolley, a fixed anchor pin bracket, and a powered micro anchor system.
The best three ways to lock down an anchor pole to your kayak are: accessory track clips, pole storage clips, and pipe clips bolted onto the gunwale.
Do not use a stake out pole, mud stick (or anything else for that matter) in your scuppers. Doing this can cause damage to the scupper and cause it to take water into the hull and void the manufacturer's warranty.