Florida Snook Size Limit: Know the Rules for a Fun Fishing Trip
Estimated reading time: 8 minutes
Are you planning a snook fishing trip in Florida? Get ready with important facts about snook slot size limits and regulations. Discover fascinating details about Florida's snook fishing and prepare for an exciting adventure!
In Florida, you'll find an abundance of snook, a prized game fish known for its fierce fight and delectable flavor. These impressive fish can reach lengths of up to 48 inches and tip the scales at a whopping 50 pounds, making them a highly sought-after catch for anglers worldwide.
However, with great popularity comes the need for proper management to maintain healthy population levels. That's where the Florida Fish and Wildlife Conservation Commission (FWC) comes in, setting strict guidelines on conserving snook through strict limits.
Here's a quick reference table:
Slot size limits: Florida Snook must measure between 28 and 32 inches to support their growth and reproductive success.
Daily bag limits: You can catch and keep one Snook per day within the legal size range to maintain a healthy population.
Fishing seasons: Generally, the Snook season is open from May 1st to August 31st and from September 1st to December 15th. However, it's important to note that there might be additional regulations and seasonal closures in certain areas or during specific times to protect the Snook population.
License and permit requirements: To legally engage in Snook fishing, you'll need a valid Florida fishing license and a Snook permit.
By exploring the upcoming sections, you will gain the important knowledge needed to understand the rules and meet the expectations for catching Snook in a responsible way. Our aim is to assist you in learning the specifics and empowering you to fish responsibly, which helps protect and preserve the amazing Snook species.
Florida Snook Size Limits and Regulations
Snook in Florida is regulated by two regions: Atlantic and Gulf of Mexico. These regulations apply to state waters and adjacent federal waters. It is important to note that commercial harvest or sale of snook is not allowed.
Atlantic Region: The regulations cover state waters, adjacent federal waters, Lake Okeechobee, and the Kissimmee River.
Gulf of Mexico Region: The regulations cover state waters, adjacent federal waters, Monroe County, and Everglades National Park.
No commercial harvest or sale of snook is permitted in either region.
| Region | Season | Slot Limit | Daily Bag Limit |
| --- | --- | --- | --- |
| Atlantic | Closed Dec. 15-Jan. 31 and June 1-Aug. 31 | 28″-32″ | 1 per harvester per day; zero captain and crew for-hire limit |
| Gulf, Monroe County, Everglades National Park | Closed Dec. 1-end of February and May 1-Aug. 31 | 28″-33″ | 1 per harvester per day; zero captain and crew for-hire limit |
Florida Snook Size Limits by Region
Note: Special regulations apply for fishing in Biscayne National Park.
Size Limit
There are specific size limits in place for harvesting snook in Florida. The slot limit for snook is not less than 28 inches or more than 33 inches in total length.
To measure the total length, go from the fish's chin to the tip of its tail.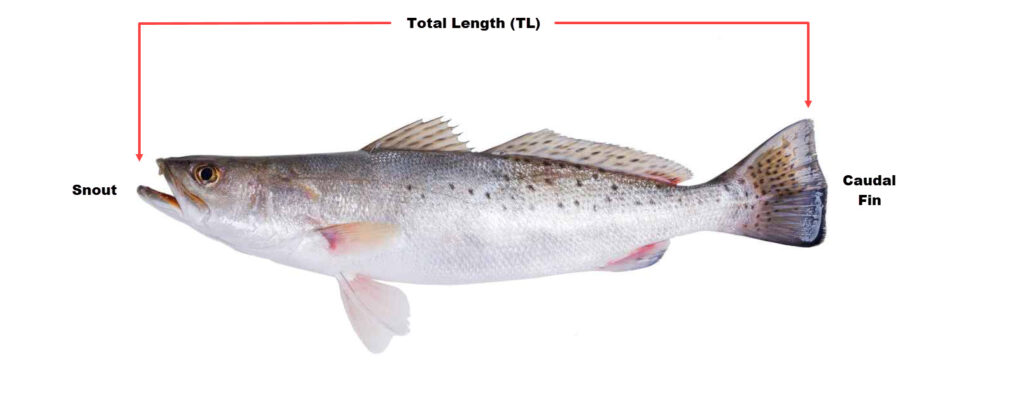 Daily Bag Limit
Florida also enforces a daily bag limit for snook. Anglers can only keep one snook per day. It's important to note that there is a zero captain and crew for-hire limit, meaning captains and crew members on charter trips aren't allowed to harvest snook.
Snook Seasons In Florida
Florida's snook season can vary depending on location. Generally, the open season lasts until midnight, December 15. Be aware, though, that different rules and regulations apply to areas like Biscayne National Park and federal waters in the Gulf of Mexico.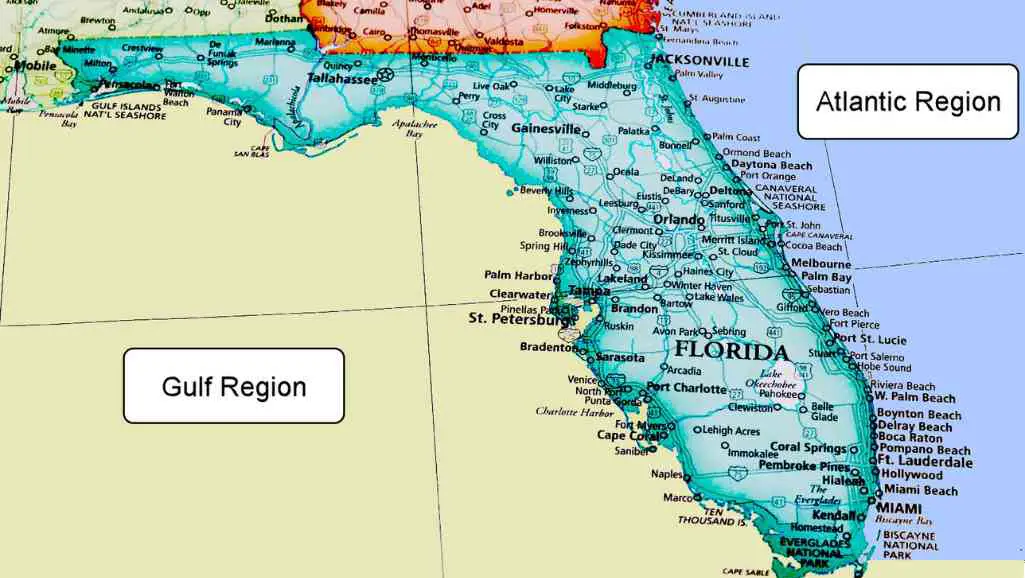 Atlantic Region:
Season: Closed from December 15th to January 31st and from June 1st to August 31st.
Gulf Region, Monroe County, Everglades National Park:
Regular Season Closures: Snook fishing is closed from December 1st to the end of February
Licenses and Permits
License Requirements
When fishing for snook in Florida, it's important to have both a recreational fishing license and a snook permit. The snook permit is an additional requirement specific to snook fishing.
Here are a few key points to keep in mind:
Recreational Fishing License: A valid recreational fishing license is necessary for anyone engaging in fishing activities in Florida, including targeting snook. You can obtain the license from the Florida Fish and Wildlife Conservation Commission (FWC) or authorized vendors.
Snook Permit: In addition to the fishing license, a separate snook permit is required to harvest or possess snook. The permit can be purchased online from the FWC's website or through authorized license agents.
Stay Informed: Fishing regulations, including size limits, bag limits, and open seasons, can vary depending on the region and time of year. It's crucial to stay updated on the current regulations for the specific area where you plan to fish. The FWC's website provides detailed information on snook regulations, including closures and slot limits.
Non-refundable Permits: It's important to note that snook permits are non-refundable. Even if the harvest of snook is closed during the time you hold the permit, no refunds will be provided.
To ensure compliance with fishing regulations and to contribute to the conservation of snook populations, it's essential to follow the guidelines and regulations established by the FWC. Checking the FWC's website or contacting them directly will provide you with the most up-to-date information regarding snook fishing regulations in Florida.
Snook Permit
When fishing for snook in Florida, it's important to have a Florida Snook permit along with your saltwater fishing license. Before purchasing the permit, make sure to check the regulations in your fishing area. Remember, all sales are final, and refunds won't be given even if the species is closed for harvest. Stay informed and fish responsibly to enjoy your snook adventures!
| Permit Type | Cost |
| --- | --- |
| Annual | $10.00 |
| Five-Year (Residents Only) | $50.00 |
Keep in mind that certain locations, such as Monroe County and Biscayne National Park, have stricter regulations for snook fishing. Stay informed about the specific requirements in these areas to ensure you comply with the rules and have an enjoyable and responsible fishing experience.
Snook Fish Limits For Other States
Snook limits are primarily regulated in the following states within the United States:
Texas: Snook can be found in limited areas along the Texas Gulf Coast, and the state has regulations to ensure their conservation.
Louisiana: Snook are present in coastal waters of Louisiana, and the state has established regulations for their harvest.
It's important to note that regulations can vary by state, and specific rules may be in place to protect Snook populations in different regions. It's always advisable to check with local fishing authorities or state wildlife agencies for the most up-to-date information on Snook limits and regulations in a particular state.
Florida Snook Fishing Locations
Tampa Bay Area
Get ready for an exciting snook fishing trip in the Tampa Bay area! You'll find abundant snook populations in this region, especially along the mangrove shorelines. One of my top recommendations is fishing near State Road 64, where I've had great success.
For the best results, try using live bait such as ladyfish or pinfish when targeting snook in Tampa Bay. Just remember to stay within the regulations, which include minimum length requirements and a daily bag limit of one snook per angler. It's important to follow these rules to avoid any potential fines and ensure the sustainability of the snook population.
Everglades National Park
Everglades National Park is another fantastic location to go snook fishing. The park is home to various gamefish species, including snook, flounder, snapper, black drum, king mackerel, cero mackerel, blackfin tuna, bonito, goliath grouper (jewfish), and nassau grouper. It's essential to be aware of any fishing regulations and fines in the area to enjoy a fun and responsible fishing trip.
When you embark on trips to the Everglades, exploring the scenic mangrove-lined areas can lead to successful snook catches. For an exciting experience suitable for all skill levels, consider guided fishing tours.
While spearfishing adds thrill, it's crucial to know that it's not permitted for snook fishing in the Everglades. Stick to traditional techniques like using live bait and casting near structures to increase your chances of landing these strong and elusive fish.
In Everglades National Park, remember that specific areas, such as Collier County and Gordon Pass, have restrictions. Always check local regulations before casting your line.
Sources
Conclusion
Plan your snook fishing trip in Florida with confidence by understanding the snook slot size limits, bag limits, and seasons. Ensure you have the required licenses and permits to fish responsibly and sustainably. Whether you're exploring the Tampa Bay area or venturing into Everglades National Park, follow the regulations and enjoy the thrill of catching these prized game fish.
By respecting the rules, you contribute to the conservation of snook and the overall health of Florida's fisheries. Happy fishing!