How Do You Keep Valuables Safe At The Beach?
Going to the beach is great, but keeping valuables safe at the beach or in the water proves to be challenging.  I found a few ways that have worked for me in the past and researched a few more that will help.
How do you keep valuables safe at the beach?  Take it swimming with you by using waterproof pouches and bags.  Also, add a GPS tracker for bikes and other valuables.  Additionally, you can use security cameras to secure your campsite.  
Don't worry about how to keep stuff safe at the beach again.  Follow my suggestions and relax and enjoy your time at the beach.
Let's get started
Let's Keep Valuables Safe At The Beach
Keeping Personal Belongings Secure
When going for a swim or other water activities, there are items you need to take to the beach, but you don't want to get wet:
Wallet or Purse
Cell Phone
Car Keys
Jewelry
Shoes
Sunscreen
Towel
Water and Snacks
There are a few things you can do to keep your valuables safe.  You can bring them with you, leave them in the car or secure them.  Here are some ideas.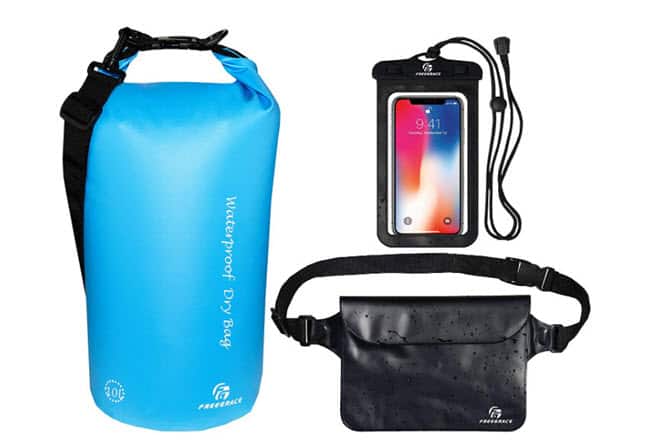 Taking Your Things With You In The Water
If you came in your car, then you can naturally secure these items in the trunk of your car or under your seat and out of sight.  But, what about cash cards keys and phone?  How about if you want to be free to carry your personal valuables into the water and want to dry off and walk down the beach?  Or kayak or snorkel?
Take it with you while swimming  and keep your stuff dry.   Carry all your things: cash, credit cards,  keys, and phone and even enjoy a snack later without having to come back to your car or motorcycle.
Other options include a waterproof beach bag or a fanny pack.
Sonia travel's "Travel tips: How to keep valuables safe at the beach" is the video I found for good ideas for securing your things at the beach.
Locking Down The Camp Site
You bring valuable items and keep them all around your campsite.  So, that makes it hard to leave unattended.  Tents, generators, chairs, canopies, and tarps are the most common.  These tips will give you peace of mind when you are away from your campsite and enjoying the beach.
For tents and canopies the best way to deter theft is to prevent it from collapsing or breaking down. This means to avoid tents with collapsible tent poles.  There are plenty that use pre-attached tent poles that unfold and extend with prefab joints. Coleman instant tents are a good example.
Secure generators, air conditioners and heaters in your vehicle, camper or RV using cable or chain locks when in use and securing in a trailer, truck or RV when not in use.
Security Cameras
There are excellent cameras that monitor inside your vehicle, RV or camper that are motion activated.  These can also be positioned to record the campsite with alerts sent to your phone.
Securing Your Camper
Positioning
Park the camper pointing away from the road.  Camper security starts with how and where you park your camper trailer. The best way to park to to make it difficult and inconvenient to attach the hitch to a truck.  This can be done by parking with the hitch away from the road and turn it around and then move it close to an obstacle.  A would-be thief would need to spend time and require help to adjust it for hitching.
Locking
Use a hitch lock and a wheel chuck lock. This will prevent both the hitching of the trailer and one of the trailer wheels from turning.
Securing Items
Install a safe for storing valuables in the camper into the floor or interior wall.  A footlocker with a pad lock is a good alternative.  Cable lock each to the trailer or make sure they are too heavy to carry off.
Install Security System
Install a security system inside the camper and motion detector lights on the outside.  You can a security installed professionally or purchase as a package with the camper.  Motion detector flood lights are a good deterrent for opportunistic thieves and nocturnal animals.
Keeping Your Fishing Gear Safe
Fishing rods, tackle boxes, ice chests and other gear are subject to theft when left unattended.  This could be at your campsite, by your vehicle or at the pier. I have had good luck throughout the years temporarily leaving my fishing tackle unattended while at a pier.  Sometimes I would get down to the end of the end and and watch someone bring in a large shark. But, fishing alone at a pier where I am not so familiar with, I would take a few precautions before leaving my gear alone. There are several convenient ways to fasten down your fishing gear to keep it safe.
Securing Your Fishing Rods At Campsite or Vehicle
Lock down rods to the rod holders on front bumper of your truck, jeep or RV
Break down rods and lock inside your car or truck
Fasten inside the tonneau cover of your truck
Use a loop rope to secure along the roof inside your vehicle
Securing Your Fishing Rods At The Pier
Interweave a cable lock around the poles and the tackle box with the pier
Tie bungee cords around the rods and tied off to the pier
Use a bicycle U-lock around the rods and attach to the pier
Apply luggage loop locks on the rods
Fastening Down Your Bikes
Bicycle theft is one of the most common and can be easy to prevent. Here are a few tips to keep your ride secure.
Securing Your BikeUse a U-lock to secure the frame, but you will still require additional cable locks to protect the wheels.
Chain locks are good to lock the wheels to the frame of the bike.  Additionally, you have the option to fasten to a truck bumper.  Install an anchor to a truck bed in which you can tie down cable and chain locks
Bike Security Install a GPS tracking device.  This can be used to also track ATVs, motorcycles or bicycles.
Conclusion
How can you keep valuables safe at the beach?  By following by these tips.  There are various tools and accessories you can use to keep track of your things.  
Also, changing your habits and keeping things secured can prevent distressful losses.  Early planning can make keeping your valuables safe a lot easier.