If you are considering camping on the beach but you're not sure how to get started? Camping is more enjoyable when you have you know what to expect in different seasons, have a list of activities you can do, and what know what makes a good campsite.  
Try these 7 Essential Beach Camping Tips:
Choose Your Favorite Reason To Go Beach Camping
Decide Where To Setup Camp
Be Prepared For The Weather During Your Beach Trip
Enjoy The Fun Things While Camping
Try Beach Activities
Make A Safe And Comfortable Beach Campsite
Know What To Bring When You Beach Camp
We will dive into these topics and more. There are so many great things about camping at the beach.  I'll share a few options for different preferences, from simplest to more extensive.
Top Benefits To Go Beach Camping?
There are many reasons people go beach camping.
Time away from work. 
Personal time to yourself. 
Taking the family on a vacation. 
Devoting extended time for an activity such as fishing, boating or Jet Ski riding. 
Sometimes it is just to getaway.
Close proximity to the water.  Hear the crashing of the waves and the wind blowing during the day and most of the evening.  You are away from the closest town or city, so the night sky is clear with a great view of the stars.
Couples can have an intimate, relaxing weekend trip in a pup tent.  A little light cooking and a few simple activities make for a perfect trip. 
Solo camping is getting popular for a personal getaway.  A great binge time for your personal interests like fishing, hiking or barefoot running.
Tent camping is perfect for families.  Cooking on a campfire surrounded by beach chairs. Cooking hot dogs and a pot of beans in the day and stew and
s' mores in the evening.  Playing Frisbee or riding an ATV around the camp.
Consider sand stakes to replace the standard tent stakes. Sleeping pads provide extra support for sleeping bags for uneven sand.
Also, think about digging a hole in the sand to safely dispose of decomposable trash.
Some people take dedicated boating or fishing trips. Take out a boat or rent a Jet Ski (or two) during the day and enjoy dinner at the camp at night. While others take fishing excursions in early morning and dusk and chill during the day around camp.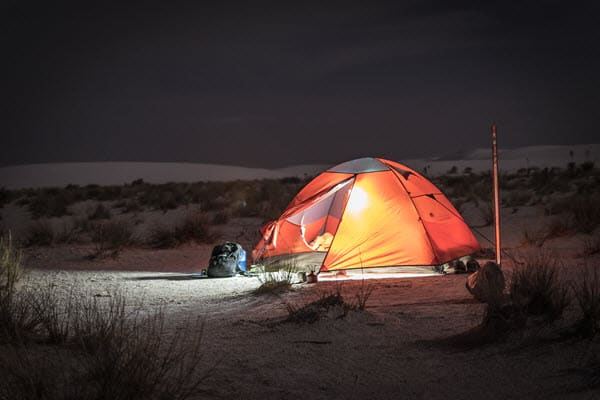 Decide Where To Setup Camp
Decide how secluded you want to be. What makes beach camping so special is separating yourself from the world, being secluded, but in plain sight.  
Most beaches are large and only crowded during the day or peak seasons.  You can cluster next to other people or drive further down the beach to separate yourself.
Some state or national parks have beach campgrounds.  They include RV and camper campsites within walking distance of the beach.   If you have an RV or pull a camper,
I don't have to tell you how great it is.  The comforts of indoor living with the experience of a week or so at the beach.  Nothing is better than cooking on a stove in air conditioning or running the heater in the cooler months.
Prepare For The Weather During Your Beach Trip
When it is cool or cold, it will limit your time for water activities.  The winter months are limiting except for campers prepared for harsher conditions.  You will have to be prepared for chilly nights and mornings, with campfires being the central focus of the campsite.  
It also means packing more clothes to keep warm and stay dry.  I personally avoid late October through February.
Moderate temperatures are the best time depending on the beach location.  This is usually late spring, early fall, and summer when the heat index is 95 or below.
Try to avoid the heat of the summer.  You will spend most of the day in the shade, sunburned and most likely, crowded.   Hot weather seasons are great if you are prepared.   
Protect against sunburns, heat exhaustion and stay hydrated.  You will need to bring lots of shade in the form of canopies and tarps. 
Swimming is excellent during this time, but watch the sunburns from sunlight reflecting off the top of the water.
Fun Things To Do While Camping
Stargazing. Sleeping under the stars and enjoy viewing without all the interference of city lights.
Build a bonfire. With some help from your friends, you will enjoy hours of stories and making memories.
Learning how to start a fire is highly recommended. Read me more starting a camp fire on the beach here.
Wildlife watching. Expect to see everything from sand crabs and turtles, to pelicans and stingrays. You will see something new every time you go.
Take photos. Take lots of pictures. With all there is to see, you can capture and share when you get home.
Additional beach camping tips:
​Ronny Dahl's "Camping Gear everything you need & advise" is the best video I found for good advise for camping gear for new campers.
Beach Activities To Try
Motoring around.  Ride your dirt bike or dune buggy on beaches where this is allowed.  There are sand dunes and trails specifically for dirt bikes in several states.  Find smooth, packed sand and ride your coaster bike.
Swimming.  Bring a couple of pairs of swimwear, swim shoes and goggles for a refreshing swim in the water.  Don't forget the float devices for the kiddies.  Do a little night swimming for the adventurous.   Read more about night swimming at the beach.
Hiking On Foot.  Beachcombing is great for the collector in all of us.  Sand dollars, seashells, and other treasures wash up.  
Walk your dog on a leash along the seashore.  Just don't let him drink the seawater.  Some beaches have established trails and paths that are great for a walk. 
Build sandcastles.  Awesome activity to spend time with the kids.  Pack some buckets, cups and a small shovel.  Choose a cooler time of the day and wear a broad hat and plenty of sunscreen lotion with a high spf, especially if you plan on spending several hours.
Surf fishing. Some of my favorite beach camping memories from my childhood.  Don't forget the rod holders for the sand and the lawn chairs and wait for the big one.
Curious about dirt bike riding in the dunes?  Read this post about having the proper tires.
How To Make A Good Campsite
Sand control.  I love the beach, but I don't want to sleep with sand or want it in my sandwich.  A trick I learned was to shake my clothes and rinsing the sand off my feet before entering the tent, camper or car. A bucket of seawater will do.
Blocking the wind.  Position your tent or camper to open downwind. This prevents the wind from blowing sand inside.
Security.  You need to secure your site while you are gone.  It's no fun worrying about your valuables at camp while you are boating or beach walking.  Implement a beach safe or use a waterproof backpack to carry them with you.
Prepare for the worst.  Pitch your tent on a waterproof tarp.  Positioning your tent away from the wind will also keep rain from driving in.  Build your camp towards the dunes, beyond the high tide water line.
Avoid the high tide line.  You will see the debris line in the sand from the night before.  For bad weather come in, build your tent on the backside of the dunes if allowed. 
Check for any incoming tropical storms and hurricanes. Refer to the tide charts for timely information.
Wondering how to keep your things safe at the beach?  Read this post about  How Can You Keep Valuables Safe At The Beach.
What To Bring Camping?
Camping Gear
​Bring a tent with adequate ventilation.  Bring a tent air conditioner or a propane heater.  Plenty of shade is a must, so pack a tarp or canopy. 
You will need chairs that won't sink in the sand.  Think waterproof or resistant when bringing anything to the beach.  Flashlights and lanterns are standard. 
There is no electricity on the beach, so bring a generator.  Most RV setups have electricity.
Learn more about what to bring for camping: Beach Camping Guide For Your Next Trip
Cooking Gear
​Propane stove, firewood, fire starters, waterproof matches, shovel, cooking pot, metal grate for cooking over the campfire, tongs, and spatula.
Food and Water.  Bring food that can be cooked over the fire and no more and two days frozen food in cooler.  You will need to prepare to replenish the ice and food every couple of days. You can look for a water source for added convenience.
You can choose reusable plates, utensils, bowls, and cups which is great for the environment, but you will need to be prepared to wash with warm and potable water.  Disposable is also an option.
Clothing.  As with any camping trip, dress warmly and pack plenty to stay dry.  Most beaches have no electricity, so use battery-powered socks and sleeping bag warmers.
Prepare For Small Injuries.  Pack a first aid kit with supplies to help with sunburns, jellyfish stings, and sore feet.  Know where the hospitals are in the area and how to get there.  There is limited to no cell service on the beach, so you can't count on 911.
Conclusion: 7 Essential Beach Camping Tips
These are some of the most helpful camping tips I have come across the last few years.  The bottom line is to plan for everything you will possibly need the first few times.  Then you can cut back on what you did not use.
Related Questions:
How long will food stay good in a cooler while on the beach?  It should last for 1-2 days only, if you have plenty of ice, keep the ice cooler in the shade, and drain the water several times a day.