Whether you are vacationing and left your kayak at home or don't have access to a kayak, its important to know there are rental options available. Don't worry, it's an easy process to rent a kayak. Read on for the best methods and how to find where to find them.
The best method for renting a kayak is to locate a kayak rental onsite near your location (or where you are traveling to) and check availability. This will usually be a marina or boat house near water. Reserve the number of kayaks and check the closing time. You can also choose to rent from your nearest kayak dealer for a daily rental if you have suitable transport vehicle or utility trailer.
In this guide, I will walk you through the two main options for kayak rental, describe the process, what you will need to bring, and how much it will cost you on the average. I also provide a terrific article for transporting a kayak as an added bonus.
What Kind Of Kayaks Can You Rent?
There are 3 classifications of kayaks usually available for rent.
Recreational kayaks are the most common. These are for single person use where you sit flat with your legs straight out. So you can expect a cupholder and molded foot pegs. And the seat is a flat foam seat with minimal cushion.
Sit-On-Top Kayaks are some of the most popular kayaks available for daily rentals at retail outlets. The seat is most comfortable due to the raised position, arm rests and firm back support.
Pedal Kayaks are ideal for both fishing and touring. The capability to navigate "hands-free" lends itself trolling and casting on the move.
For those who are new to kayaking, you can learn about paddling your kayak here.
If you will be getting in and out of your kayak on your own, here's a great resource for how to get in and out of your kayak.
Where To Rent A Kayak?
How To Rent A Kayak Hourly
Firstly, the most convenient method for renting a kayak by the hour is to find a marina or boat house that rents directly on-site near the water. A simple Google search will help you find kayak rental locations near you.
Pros And Cons For Hourly Kayak Rentals
Below are discussed the advantages and disadvantages of renting a kayak at locations such as a lake or river.
PROS
Convenient rental and return process
Can rent by the hour which are lower cost
Small lockers are sometimes available
PFDs (personal floatation device) and paddles are provided
Water site rental means no hauling, so no truck or trailer required
CONS
Usually rentals are first come, first serve, although some places take reservations
Rentals sell out early, so it is advisable to show up early to avoid waiting for availability
You can only use the kayak during their open hours
Selection can be limited over the weekend
What Hourly Kayak Rentals Cost
I have found hourly rates between $15-20 on the average for the first hour. And this does not include the security deposit or locker rental. There are no overnight rental for this rental option.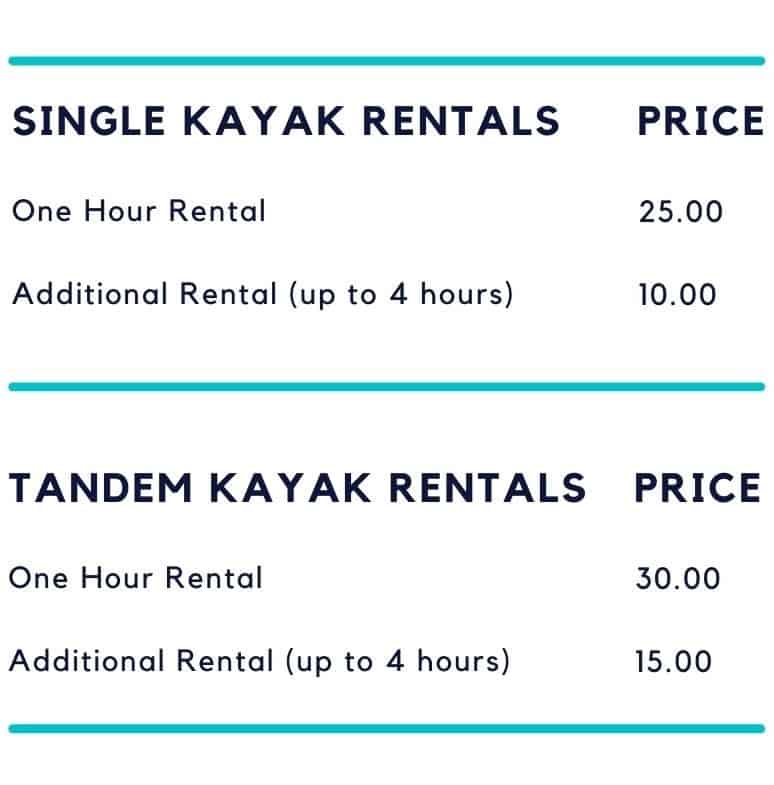 You Will Need To Bring This With You
Be sure to bring one photo ID with you and money for a security deposit
Bring your own padlock if you plan on using a rental locker
Consider bringing your own PFD for a more comfortable fit
Bring towels and a change of clothes since you will most likely get wet
Wear protective gear such as a jacket, hat, sunscreen, sunglasses, and plenty of water
Things You Will Need To Keep In Mind
On the weekends, most businesses open at 9 a.m. with the last boat out time is 7 p.m. They will want their boats back by 8 p.m. This varies by marina or boat house.
Hours and days of operation are seasonal, so check hours before going. Be aware that restrooms may not be available to the public.
Before you rent, you can expect to sign a liability waiver stating that you will be responsible for the safety of you and your family. They are usually valid for one year. Participants under 18 years old must have a liability waiver signed by a legal parent or guardian. 
Be mindful to bring a valid fishing license if you intend to fish while kayaking
You will want to check the weather in the morning and evaluate your situation if conditions are not safe. High winds, heavy rains and lightning events will force the marina to close until the weather clears.
For safety purposes, map out where you will be heading before you begin and let a friend or family member know the time you are to return
The Best Way To Rent A Kayak For The Weekend
Flexibility over convenience is how I would differentiate hourly versus daily kayak renting.
So next time you are booking a vacation to your favorite lake or river, consider bringing a rental kayak along. It is perfect for fishing and touring in most conditions. And best of all, you don't need to buy one is it is only for occasional use.
Pros And Cons For Daily Kayak Rentals
I previously highlighted the benefits of hourly kayaking rentals: walk up service and no investment required. But, if you have the vehicle equipped to pull a lightweight utility trailer or t-bar, daily rental has greater advantages and a relatively lower rate.
PROS
Longer term rental options
Most rentals on Friday are not due until Monday
Liability waiver and security deposit are usually not required
You are free to haul to any vacation or water location
You have access to test drive high end manufacturers such as Hobie, Jackson, Native, or Bonafide kayaks
Some retail locations will rent higher-end models such as pedal kayaks
CONS
You will need to reserve your preferred model
You will need a method to safely transport the kayak
You will need to be able to lift and carry the kayak to and from the water
Rates are higher
What Daily Kayak Rentals Cost
I have found daily rates between $30-65 on the average for per day. There is no security deposit or locker rental.
What Is The Best Way To Transport A Rental Kayak?
Kayaks are easiest to transport by using a larger vehicle with a hitch and a lightweight trailer. The best alternative method is to use a t-bar which also requires a hitch.
Many SUVs and mid-sized cars are equipped with side rails in which roof racks can readily be installed. Small cars can be outfitted with a roof rack system that can carry 132 pounds or two to three small to medium-sized kayaks.
Fishing kayaks are heavy and long, so the optimal transportation is by a truck bed or a lightweight kayak trailer.
Read everything you need to know about transporting kayaks here:
Final Thoughts
The kayaking rental market serves two major needs: casual recreational activity anyone can do on a Saturday and the vacationer who wants to go kayaking on a river or a lake for an extended time.
Renting a kayak is very inexpensive and a great deal of fun. And you can share great experiences with your kids, you family and friends without the extended cost and upkeep of purchased kayaks.