You just purchased a new kayak, and your family is thrilled. You've already booked two kayaking excursions for the summer. But, do you know how to transport a kayak without breaking the bank?
Utility trailers are a costly solution. You're not sure how much weight you can carry on your car's roof. But, you need to find a safe to haul your kayak. After all, there's nothing more depressing and dangerous than your new kayak crashing on the highway.
Learn how to transport a kayak properly, roof rack systems, typical kayaks lengths, how long a kayak your vehicle can carry, roof rack, and cradle options for one to up to four kayaks.
Read in this article:
About roof rack systems to transport your kayak by any vehicle type
How to size your kayak for your vehicle
About kayak mounts and cradles for one to four kayaks
How to determine the weight capacity of every car, SUV and truck with a comprehensive sizing chart
How to use a kayak rack for your truck or a truck bed extender
And some great instructional videos for loading your kayak on the roof, electric loaders, and using a trailer
Related Topics
What Are Typical Kayak Transport Options?
The first thing the kayak seller asked me was, "How will you transport it?"
There are five proven ways to haul a kayak.
Use a kayak rack. This is made up of roof racks, cross bars, and kayak cradles. Some cars come with a factory rack preinstalled.
A truck bed extender is needed to fit a large kayak in the vehicle's bed. This allows for up to a 14-foot kayak to be carried in the truck bed.
Carrying the device inside of an SUV's rear end is a good option. For passenger and driver safety, you'll need to secure it properly in place.
Install elevated truck racks. This is one of the best solutions for long and heavy kayaks.
Pull a utility trailer, a kayak trailer, or repurpose a Jet Ski trailer. Although this may be one of the costliest options, it is one of the most flexible. It requires the least amount of lifting and is easier to launch in the water.
To answer how to transport your kayak, you need to know three things:
What kind of vehicle will you be using?
How many kayaks do you intend to haul?
Will you be transporting your kayak on the vehicle roof, a truck bed, or a kayak trailer?
These are essential questions that lead to the main question. How do you transport your kayak? In this post, we provide critical facts to give you options that best suit your situation.
Transporting Kayaks On A Car
In general, a car should be able to carry between 8 and 9.5-foot kayaks. Larger kayaks will be difficult to secure at the bow and stern even with tie-downs.
Some automobiles can accommodate a car rack system that can carry up to 132 pounds or two to three small to medium-sized kayaks. This weight restriction is determined by the roof rack and kayak cradles' limits.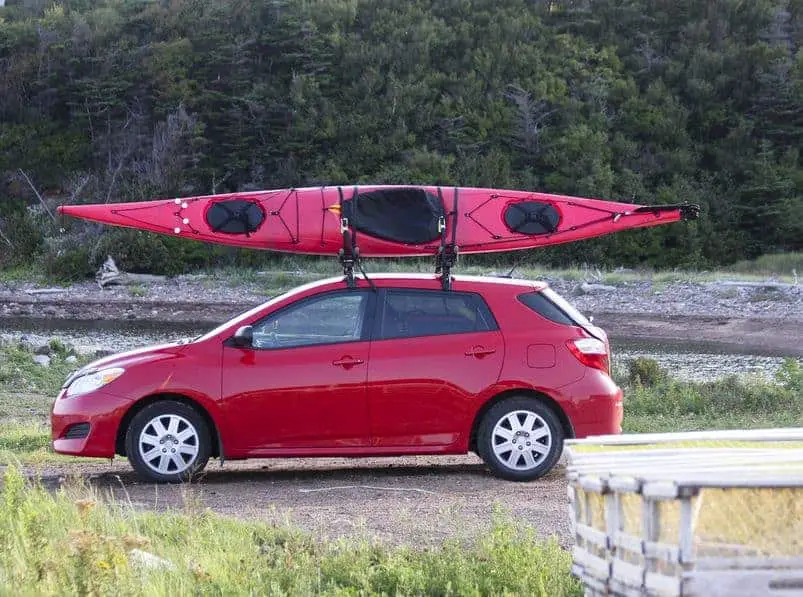 Car rack over a small car
Recommended Kayak Size Limits By Vehicle Size Class
[table id=9 /]
Additionally, each state has laws about extended or oversized loads.
A vehicle or combination of vehicles may not carry a load that extends more than three feet beyond its front or, except as permitted by other law, more than four feet beyond its rear.

Texas Department of Public Safety | Extended Loads
Kayak Car Racks For Cars
Since nearly all cars have a naked roof, you use one of the naked roof options for your kayak rack without roof rails or cross bars.
Kayak Cradle Mounts For Cars
Additionally, you will have an array of kayak carrier options that will mount to your roof rack.
Realistically, you have two options: the J-cradle rack and the saddle kayak rack. You can also use the stacker design as long don't overstack and stay under the weight limit.
Transporting Kayaks On A Truck
A pickup truck has two surfaces for the right kayak rack: on the roof and in most standard truck beds. Treat the pickup truck cab like a car roof.
Most kayakers love the convenience of throwing their kayak in the back of the truck. After tying down it down, you are ready to go.
But, if you are on an extended camping trip, your truck bed will probably be loaded down with gear.
Carrying kayaks on a truck
Kayak Roof Racks For Trucks
For pickup trucks, there are two-door and four-door models. Since roof vendors require a 24″ span between racks, we will only address four-door cabs for adding a kayak roof rack.
Nearly all truck cabs have a naked roof. Therefore, without side rails or cross bars, you will use one of the naked roof options for your truck roof rack.
There are additional options if your truck has a camper shell over the truck bed. The extra roof length is comparable to an SUV roof reviewed below.
Kayak Mounts For Trucks
As with kayak mounts for cars, you are somewhat limited in the kayak carrier options that will mount to your kayak racks.
The J-cradle rack and the saddle type kayak rack are sensible choices. The stacker is not a good option here.
Hauling Kayaks In A Truck Bed
Having a truck makes hauling a kayak much more accessible and convenient for several reasons.
First off, there are no weight limitations for transporting your kayak in the back of a truck. So, you will have no problems taking a heavy kayak in the back. Simply attach the T-bar extender to the receiver hitch.
There is a practical length limitation of around 12 feet based on the length of the truck bed. Longer than that, you can risk extending too far to support its weight.
Learn all about hauling a kayak in the bed of a truck.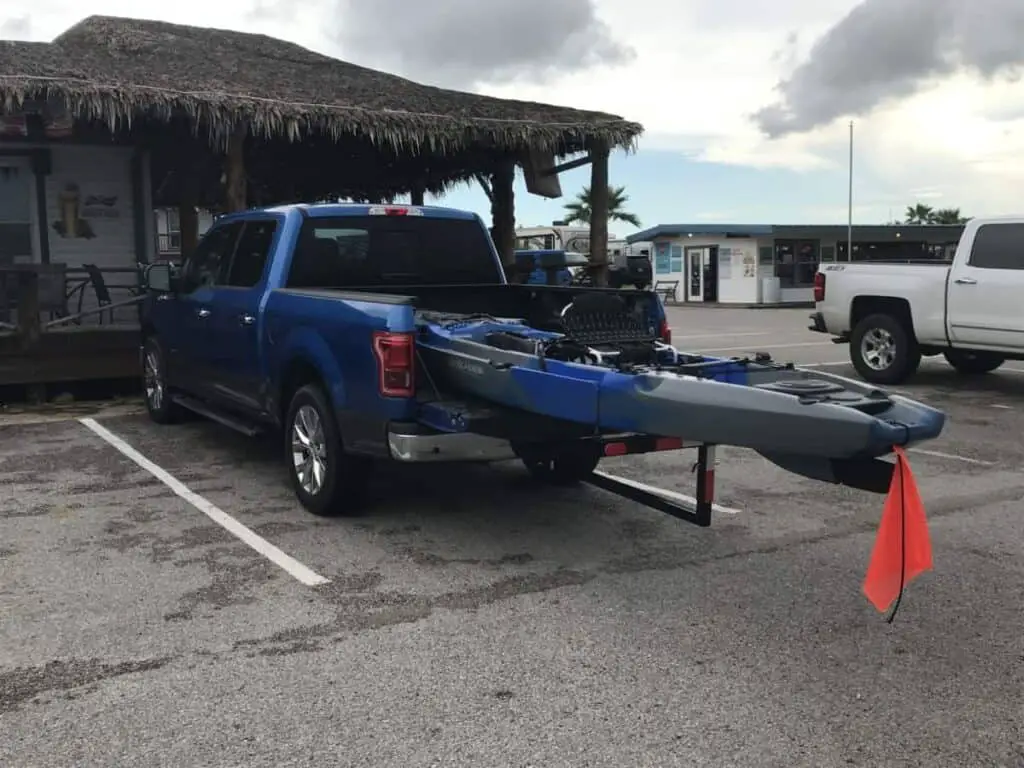 Truck Bed Extender attached to the hitch receiver
Transporting Kayaks On An SUV
A sport utility vehicle has the most extended roof surface area giving it the most rooftop options.
Most SUVs come with side rails with optional crossbars. The maximum weight is 165 pounds for Jeeps to Suburbans. The estimated kayak length does vary for each size class, however.
Multiple kayaks on an SUV
While a Jeep Cherokee can comfortably carry a 12.5-foot kayak, a Chevrolet Suburban can carry up to 14 feet.
You must have a method to load large and heavy kayaks on the roof of SUVs.
How To Top Load A Kayak Onto An SUV Using A Loading System
How to Top Load a kayak by Yourself specifically for an SUV! –
Chris McFarland
Electric Kayak Loader – Unloading || Boathoist Loading Systems –
Boathoist Loading Systems
Transporting Kayaks On A Trailer
Another common approach is hauling a kayak on a lightweight trailer. There are fine trailer manufacturers that provide single, dual, and quad-kayak trailers. Many kayakers choose a DIY approach and either convert a Jetski trailer or a utility trailer.
Pros to using a kayak trailer
Quickly back in trailer into the water to launch
Easy to load the trailer in the water
No heavy lifting onto the top of your vehicle
Cons to using a kayak trailer
Requires a trailer hitch on your vehicle
States require registration for all non-farm trailers operating on public highways.
If your manufactured trailer's gross weight exceeds 4,000 lbs., it must be titled.
Newly assembled trailers must be titled regardless of weight. This fact includes DIY trailers.
More information about trailer registration see in your state. For Texas, see here.
How Long Are Kayaks Typically?
You will need to size your kayak to the maximum length your hauling vehicle can manage.
There are six basic styles of kayaks, and here are the typical lengths of each:
When hauling a sit-in kayak for recreation, touring, or sea kayaking, use a cockpit cover to protect the cockpit's interior from road dust and debris.
Learn all about what kayak size you need for all kayak types here.
How Long A Kayak Can Your Vehicle Carry?
The longer the kayak, the more wind will be lifting the kayak and sway it when traveling at highway speed. Therefore, the main goal is to secure the kayak to your vehicle correctly.
The best technique is to ratchet straps down with bow and stern load straps at an angle to keep them from spilling on your hood or behind you into traffic.
Because of this, we recommend limiting kayaks to 3 feet shorter as a minimum. This length allows for the tie-downs point to be secured tightly at the front and rear. It is recommended to ratchet the two straps bow tie-downs first.
Here is a guideline of vehicle size classes with length and recommended maximum kayak length.
Do You Need A Roof Rack For A Kayak?
Yes, kayaks need kayak racks to secure a kayak to the vehicle rooftop. This system includes a roof rack with crossbars and an associated set of cradle mounts. Car kayak racks attach to a bare car roof by design.
Factory rack or aftermarket car kayak rack allows up to 165 pounds (75 kilograms) to ride on a car roof.
DIY kayak racks, including pool noodles, are known to fail and cause damage by warping and bending the kayak hull or dent or deform the car roof. At worst, the kayak can work itself free if you did not engineer the DIY rack correctly. Avoid DIY racks for the safety of you and other vehicles on the road.
Kayak Roof Racks
What Kind Of Roof Rack Do I Need For A Kayak?
SUVs and Jeeps usually come with side rails as a minimum. You will need rack towers and two crossbars or round bars installed on your vehicle as a minimum.
Learn more about kayak racks for different roof styles in Choosing the best kayak rack.
How Many Kayaks Can Your Vehicle Carry?
The number of kayaks you can transport and the safety of your car roof depend on the roof rack system that you fit onto your car.
Most vehicles outfitted with an aftermarket kayak rack can carry 132-165 pounds on the roof. This weight realistically limits you to one heavy kayak or 2-3 lightweight kayaks, depending on the rack system.
There are a few factors to consider before attempting to transport kayaks using a roof rack:
Know the load limit of your car. You find this weight posted on the driver-side doorjamb.
Don't exceed the load limit of your car. Calculate the load weight without a kayak. This limit includes the weight of all passengers, cargo inside the vehicle, and the kayak roof rack weight (including the kayak carrier).
If towing a trailer, add this weight also.
The remaining load capacity is the available weight for your kayak.
The weight limitation of the kayak racks, which is usually 132-165 pounds, is the actual limit.
This amount realistically would limit you to one heavy kayak or 2-3 lightweight kayaks, depending on the rack system.
So, for example, if your:
Carload capacity rates at 850 pounds
car rack and kayak cradle combined weight is 40 pounds
driver and passenger combined weight is 400 pounds
total non-kayak cargo is 35 pounds
then you would have 375 total pounds left, which you must not exceed.
You will need to distribute the weight and spread it out and evenly.
Factory Racks And After Market Rack Weight Limits
Rack systems include crossbars and base towers
The most crucial piece needed to build your perfect kayak hauler is the kayak rack. It makes includes the following:
Roof side rails
Crossbars or round bars
Side rails and crossbars can come standard or as a vehicle option for most factory racks. Additionally, side rails can come with crossbars that run from door to door.
These kayak racks are usually limited in two ways:
1) they are generally lightweight and not made to carry a lot of weight
2) the crossbars do not extend beyond the posts on each side. The crossbars limit the number of kayaks you can load side-by-side.
You have two options:
1) you can replace the factory crossbars with a more robust, more extended set to hold more capacity
2) choose a kayak rack for bare roof vehicles.
How Can You Carry Four Kayaks On A Roof Rack?
Yes, wider vehicles like vans and SUVs can transport multiple kayaks by using a stacker kayak mount. The stacker has two vertical bars that mount on the two crossbars.
You then tie down the kayaks to the strap eyes at the top of each stacker. to the crossbar.
Finally, you tighten the load straps on each kayak's bow and stern tie-downs to the front and rear of the vehicle. You can use attachable hood loops that you fasten to the front vehicle chassis.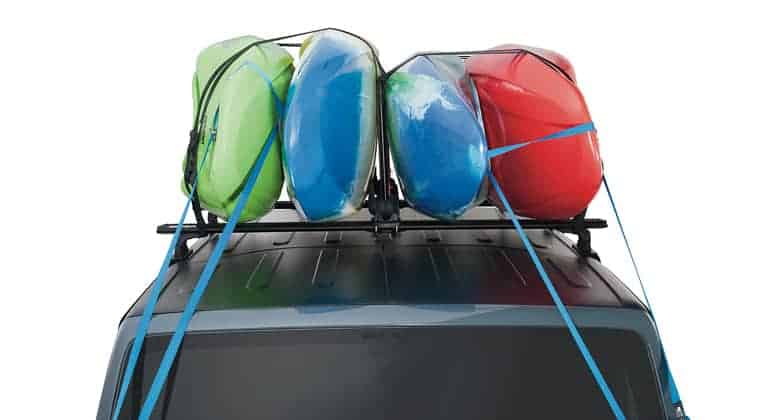 How Can You Transport A Heavy Fishing Kayak?
Fishing kayaks are difficult to transport due to their weight and length. The optimal transportation is by a pickup truck bed or a lightweight kayak trailer.
Since the maximum roof weight limit is 165 pounds for larger vehicles, the kayak weight limit should be less than 150 pounds. The ideal kayak mount is a simple saddle kayak cradle that loads from the rear of the vehicle.
I prefer transporting using my Ford F-150 using a T-bar bed extender using the receiver hitch. The T-bar will allow for a 14-foot kayak without a weight limit.
Integrated Lift Systems
There are kayak lift assist devices you can install on your SUV.
Kayak lift racks also referred to as integrated lift systems, make it easier to put a kayak on top of your car's roof. They come in a variety of shapes, designs, and levels of assistance.
Depending on the type of kayak rack, lift-assist kayak rack designs vary. Lift-assist for j-style racks, horizontal racks, and other similar situations is available in several forms.
Some lift-assist racks are complete rack sets that include everything you need, while others may simply be an attachment to an existing kayak rack.
There are also sophisticated assist kayak racks accessible that make loading your kayak a breeze.
One example is the Thule Hullavator Pro raises up to 40 pounds of the kayak's weight, which is significantly more than half of the overall weight of the rack!
Summary
Manufacturers design some car roof racks to attach to a bare car roof.
SUVs and Jeeps usually come with side rails as a minimum. You will need rack towers and two crossbars installed on your vehicle as a minimum.
Most vehicles outfitted with aftermarket crossbars can carry one heavy kayak or 2-3 lightweight kayaks depending on the rack system.
Fishing kayaks are heavy and long, so the optimal transportation is a truck bed or a lightweight kayak trailer.
You can outfit a small car with a kayak rack that can carry 132 pounds or two to three small to medium-sized kayaks.
There is a practical length limitation of around 12 feet based on the length of the truck bed.