Hobie Pro Angler 360 vs Pro Angler | All Features Covered
The Hobie Pro Angler 360 is the newest, most advanced fishing kayak on the market today.
Need help deciding which kayak to purchase? Use this comprehensive guide to compare the Hobie Pro Angler and the Hobie Pro Angler 360 side-by-side.
What are the biggest changes for the Pro Angler 360?
The first thing to note is that the Pro Angler 360 is a significantly upgraded version of the Pro Angler. The most significant difference is that the Pro Angler 360 has a Mirage Drive system that allows you to pedal in any direction, while the Pro Angler only will enable you to pedal forward.
The Pro Angler 360 also has an 8-position pedal adjustment system that lets you customize your pedaling experience and trigger control, making it easy to engage and disengage the pedals.
In addition, the Pro Angler 360 has some other great features that the standard Pro Angler does not have. These include a quick change fin direction, sideways motion, and integrated reverse. These features make the Pro Anger 360 a clear winner over the standard PA, even with the $885 premium.
Don't miss the Hobie Pro Angler 360 Features Video below.
Below is a side-by-side comparison of the Mirage drives in the Pro Angler 360 and the more traditional Pro Angler with the Mirage 180..
12 Hobie Pro Angler 360 vs Pro Angler Considerations 
#1: Mirage 360 Drive improves steering experience
Hobie's new Mirage 360 Drive System is a game-changer for kayak fishing.
With the ability to spin 360 degrees and aided by the rudder, the Mirage 360 allows you to make extremely tight turns. This gives you the advantage of quickly changing direction and staying on the fish. Additionally, a red arrow points in the direction of the fins, so you always know where you're going.
The Mirage 180 drive is a fixed drive and does not aid with turning, so if you're looking for the ultimate kayak fishing performance, the Hobie Mirage 360 is the drive for you.
#2: Separate Knob Handle To Turn Fin Direction
The Hobie Pro Angler 360 has a separate knob handle (left side) to turn the fin direction beneath the rudder control. What does this mean for you? This means that you have much more control over the direction of your kayak with just a flick of your wrist. With a Mirage 360 drive, you can easily and quickly change directions without taking your hand off the fishing rod.
The Hobie Pro Angler 360's separate knob also helps you keep your kayak in a straight line when you are paddling in strong currents or windy conditions. This feature is a massive advantage over other kayaks that do not.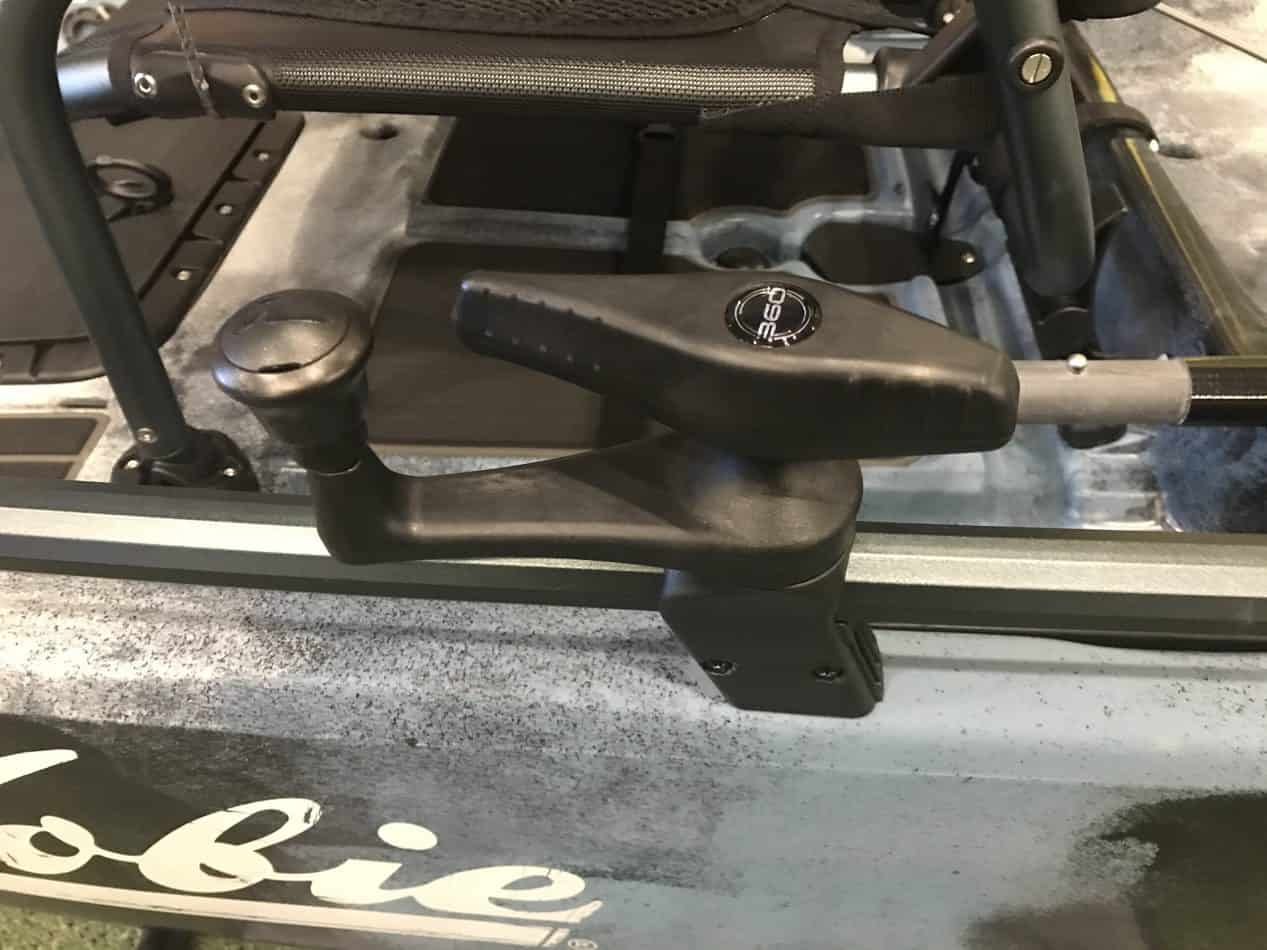 #3: Parallel Park Using Fin Direction
The fact that you can pedal Hobie's Pro Angler in a sideways direction means you'll be able to position your kayak easily, no matter the water conditions.
This allows anglers to cast their line perfectly each time—giving Hobie a significant advantage over those using other brands of kayaks without this feature.
With the Hobie pro angler, energy and time wasted peddling in circles will be saved as you can quickly zero in on the perfect spot to fish.
#4: Reverse Has Been Integrated With The 360 Steering Handle
The Hobie Mirage Pro Angler 360 features a rotational drive system that lets you alter directions without needing to stop and pull a tab like the Mirage 180 drive.
You can switch from forward to reverse by twisting the 360 steering handle. Additionally, The red arrow on the Drive System also tells you when your fins are reversed so you can rotate the knob until it's pointing downwards. This saves you time and effort changing to and from reverse and makes it easier to get around in tight spots.
Mirage 180 uses pull tabs to change direction
#5: Improved Pedal Adjustments
The Mirage 360 drive has a new 8-position pedal adjustment with trigger control, making it simpler to change your position. There is also a red arrow indicator, so you know exactly where the pedals are positioned.
The 6-position pedal adjustment on the Mirage 180 can be more challenging, making it difficult to ensure ideal placement.
#6: Mirage 360 Drive Is Not Pro Angler Compatible
Like the Mirage 360 and want to add it to your existing Pro Angler? Sorry, can't do it.
Hobie's revolutionary MirageDrive 360 pedal propulsion system is a kayak design and function achievement. But, if you're a Hobie Pro Angler owner, you're out of luck when upgrading to this incredible drive.
That's because the MirageDrive 360 is incompatible with the Hobie Pro Angler. This drive will not fit into the regular Pro Angler drive reservoir and will not have the associated gearing and cabling required.
#7: Mirage 360 Fins Are Recessed In The Bottom Of Hull
Hobie's new Pro Angler 360 offers even more innovative features than its predecessor. One of the most exciting is the recessed Mirage 360 fins. This design protects the fins and shanks from rocks, shell beds, and underwater branches, making it ideal for fishing in shallow water.
The Hobie Pro Angler 360 also has the option of poling with the fins up, making it even easier to navigate through tight spaces.
#8: The Hatch In Rear Tankwell Is Raised
The boat has many features that all fishermen will find useful, such as a raised hatch in the rear tank well. This design helps to drain water from the seating area so that you can stay dry while fishing and also allows you to access this rear hatch without letting in any water inside.
#9: Predrilled Holes For Anchor Trolley Kit
The Hobie PA 360 comes with new pre-drilled holes for the anchor trolley kit, making installation quick and easy. With this kayak, you won't have to worry about drilling and tapping holes.
#10: New Colors!
Hobie's new colors for the Pro Angler 360 are sure to turn heads when you hit the water! The green camo and blue camo hulls provide a sleek and stylish look, while the red firecracker camo hull on the Mike Iaconelli Edition really makes a statement.
Whether you're looking to blend in or stand out, Hobie has you covered with these great new color options.
#11: Price Comparison
Another significant consideration is the cost of upgrading from the Pro Angler to the new Pro Angler 360. Here are Hobie's suggested retail prices for next year.
Hobie Fishing Kayak Models and List Prices
| Kayak Model | 2022 List Price |
| --- | --- |
| Mirage Pro Angler 12 | $4,299 |
| Mirage Pro Angler 12-360 | $5,299 |
| Mirage Pro Angler 14 | $4,499 |
| Mirage Pro Angler 14-360 | $5,449 |
#12: Weight Comparison
The Mirage 360 drive adds 4 pounds more to the Pro Angler, but that weight difference should be less significant of a factor. If you're considering a Pro Angler but unsure how to transport such a large kayak, read our "Ultimate Guide To Transporting Your Kayak" guide.
Hobie Fishing Kayak Models and Listed Weight
| Kayak Model | Fitted Weight | Fully Rigged Weight |
| --- | --- | --- |
| Mirage Pro Angler 12 | 105 lbs | 129 lbs |
| Mirage Pro Angler 12-360 | 110 lbs | 133 lbs |
| Mirage Pro Angler 14 | 121 lbs | 145 lbs |
| Mirage Pro Angler 14-360 | 125 lbs | 149 lbs |
Hobie Pro Angler 360 Features Video
demonstratesThis awesome video demonstrations all the new features up close.
What Is The Same for the Hobie Pro Angler 360
Front hatch (although, they fixed the seal problem)
Horizontal rod storage
Mounting plates with built-in tracking
Center hatch with the tackle management system and removable tackle box rack and webbing pockets
Foam deck pads
Vantage ST seat
Rear tank well size
Dual handle rudder system
Drop Down skeg
Both have "kick-up" fins for 2020
Hull design
H-bar rails
Built-in rod holders
Pad-eyes in rear
Other Considerations
Hobie's newest kayak, the Pro Angler 360, is feature-rich and perfect for serious fishermen. Some of its top features include a 360-degree Mirage drive and plenty of storage space.
But there are a few things to consider before making the upgrade from your old Pro Angler. The first is the glut of Pro Anglers on the market. Many people are upgrading to the PA 360, so you might need help to get top dollar for your old kayak.
Second, there could be some first-generation problems with the drive. Make sure to research and see if there have been any reported issues.
Lastly, does it improve your fishing experience? The PA 360 is a great kayak, but it might onlyonly be worth the money if it improves your fishing game.
So weigh your options carefully before upgrading to the Hobie Pro Angler 360.
Summary
So, which Hobie kayak is right for you? The Hobie Pro Angler 360 is perfect for a top-of-the-line kayak with all the bells and whistles. The standard Hobie Pro Angler may be a better option if you are on a budget or are interested in only some extra features.
I'd love to hear about your experiences in the comments below!